ENDURANCE Smoothie
I love adapting my recipes to fit specific needs. It's especially useful when working with a client to have an arsenal of alternate ingredients for each recipe, so that I can customize as needed. Even just a small tweak can enhance the taste, or the impact on health!
For this particular smoothie, I focused on one of those things we all search for: increased endurance. Whether it's physical, intellectual, or sexual endurance you're seeking, this shake hits all the marks. Kick off your day with this killer blend - and if you choose to add some delicious toppings, I would go for our Mocha Maca BALLERS and just crumble them over top for added texture, bonus endurance and bursts of flavor.
Ingredients
1 cup non-dairy milk (hemp, almond, oat, macadamia, flax, etc)
1 cup fresh baby spinach
½ frozen banana
1 teaspoon ground flaxseed
1 teaspoon agave, maple syrup or local honey
1 teaspoon beet root powder
½ teaspoon maca root powder
½ teaspoon spirulina powder
Prep
5 minutes
Equipment
standing or hand blender
Level
1
Serving
1
Directions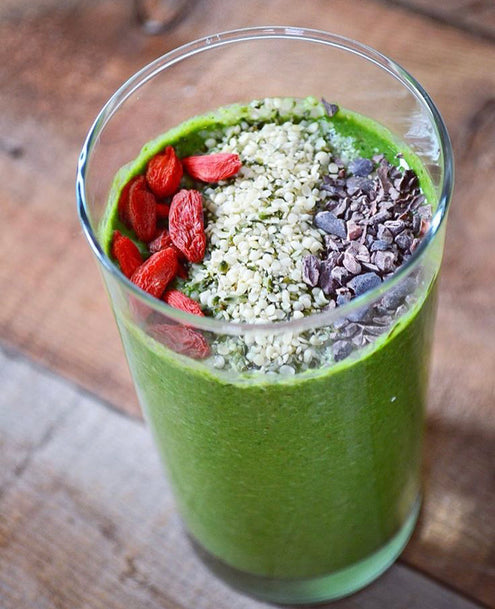 Start with non-dairy

Start with non-dairy milk at the bottom of your blender or blending bleaker, then add remaining ingredients. Blend until completely smooth.

Pour into glass

Pour into glass, add toppings (such as crumbled Mocha Maca BALLERS or dried goji berries, raw nuts, hemp seeds, cacao nibs, bee pollan, etc) and eat!

Tips

Smoothies can be made up to one day in advance or frozen for up to 3 weeks. If you add the flaxseed and let it sit overnight it will become very thick so depending on the consistency that you like, you may need to add more non-dairy milk when eating.
You May Also Like Eat